"Learn to travel, Travel to learn!" – Dudley Warren, Operations Director
DUDLEY's BIG SHIP PRIVATE TAXI TOURS LIMITED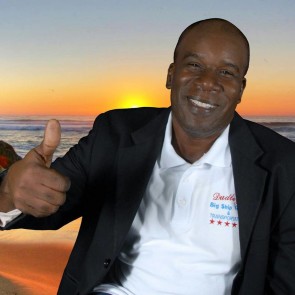 Owner:
Dudley Warren (AKA Bigship)
Maud McLeod HS
Telephone:
1(876)386-9510 or 1(876)772-8759
Address:
Norman Manley Boulevard
Negril P.O.
Westmoreland, Jamaica
Experience:
Proudly in the Tourism Industry since 1984 as a Tour Operator with connections in the Film Industry since 1998 (first gig with MTV). Worked alongside the late Alaric Burke as Transportation Captain. Work with Production Managers Maxine Walters, Sarah Manley and Natalie Thompson as Transportation Coordinator.
Worked alongside Sarah Manley with films like "The Biggest Looser", "Bad Girls Club" and "I love New York", in June 2012 with the film American Next Top Model as Transportation Coordinator.
Experience with over 250 crew members and 50 Vehicles. November 2012, I worked in Negril Jamaica with Travel Channel Hotel Impossible as Transportation Coordinator alongside Natalie Thompson (Producer, Production Manager).
In July 2013, I worked in Negril Jamaica with VH1 TV Films, Black Ink Crew as transportation coordinator with Tanya E Taylor, Producer/Director. In addition I also coordinate large Wedding Groups. Presently own and operate 2011 Toyota 29 seater Coaster, 60 seater Coach, 2010 Toyota Hiace 16 seater and a 2007 Toyota van 7 seater and a limousine.
Credit Card Payments
Prepayment by using your visa or master-card.
We are always available to accept payments by phone (not online) Call 876-772-8759/876-386-9510
"This way you know who you are emailing." – Dudley Warren (Owner/ Manager)
Dudley's Big Ship Private Taxi Tours is a fully registered and insured tour company, licenced by the Jamaica Tourist Board. All tours have a fully qualified and experienced Driver/Tour Guide available at all times to answer your questions, and to provide you with the highest quality of service available during your tour!